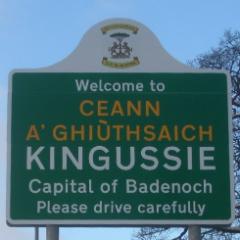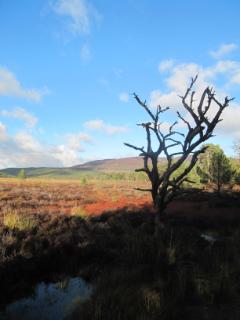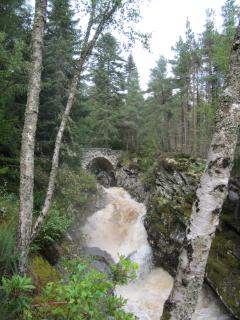 Kingussie & The Cairngorms National Park

For those who haven't yet had the pleasure of visiting the Cairngorms National Park, the true spirit of the Scottish Highlands awaits. With a microclimate that locals rightly describe as 'four seasons in one day', the look of the landscape is ever changing; constantly urging you to review a scene you thought you had mastered.
Described by the Park Authority as "Britain's highest and most massive mountain range; its biggest native forests; spectacularly clean rivers and lochs; moorland and farmland and a stronghold for Britain's wildlife - this special place offers the warmest welcomes from the people who live and work here".
Nestled at the foot of the Creag Bheag mountain and on the west bank of the great Spey River, is the village of Kingussie (or Ceann A Ghiuthsaich to give it its Gaelic name). The village is the administrative capital of Badenoch & Strathspey, although since the advent of Scottish ski resorts in the 1960s, it has been eclipsed in size by the town of Aviemore, 15 miles to the north. Fortunately, this has allowed Kingussie to retain its peaceful village-feel, while at the same time providing easy access to the facilities of Aviemore.
The Cairngorms National Park was established as recently as September 2003 and covers an area of 4528 sq kilometers. However, archaeological traces of human habitation exist from 5,000 years BC, as does evidence of more recent Celtic and Pictish settlement. Then followed the establishment of the clan system, which dominated the entire Scottish Highlands from the 10th to the 18th centuries; ending with the Jacobite uprising. Subsequent use and habitation on the land included the building of military forts and roads, planned settlements, new forests planted, and the clearing of the glens to create sporting estates. All of which has left its mark on the landscape.
The Cairngorms is home to 25% of the UK's threatened bird, animal and plant species, and is a particularly good place for bird watching. It is the best place to see the Scottish Crossbill, the only bird unique to Britain, and other birds to be seen are golden eagles, osprey, dotterell, capercaillie and the crested tit.

More information about the park and the work of the Cairngorms National Park Authority can be found at www.cairngorms.co.uk


Images: Top - Loch Morlich in autumn; Middle - Kingussie village sign, Glenmore Forest above Aviemore in autumn, & the Falls of Bruar;

Bottom - Loch Alvie in winter